Photographer Megan Ervoes Robbed Our Family of $800.00 & Priceless Keepsake Memories!
Included in this post are my text conversations with Megan Sanders Ervoes- It is Unbelievable!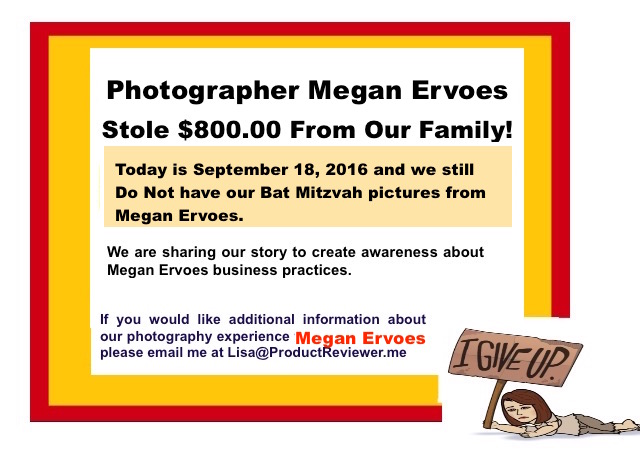 Megan Leigh Sanders Ervoes

Of Aliso Viejo, CA. Stole $800.00 From Our Family
Megan Sanders Ervoes stole our family funds and keepsake memories.
Megan Sanders Ervoes Photography History
We hope our story will make others aware of Megan Sanders Ervoes business practices.
We paid Megan Ervoes in FULL $800.00 June 27, 2015, to photograph our daughter's Bat Mitzvah.
It is September 18, 2016, and we still do not have our daughter's Bat Mitzvah photos.
Megan Sanders Ervoes has robbed our family of funds and more importantly, of our keepsake photos.
We do not want another person or family to have the same horrific experience as us.
Our History With Megan Sanders Ervoes 
Megan Ervoes was the photographer at my oldest daughter's Bat Mitzvah in 2010.
I had to phone Megan Ervoes several times after my oldest daughter's Bat Mitzvah to receive the photographs.
It took Megan about five months to deliver the Bat Mitzvah photographs to our family.
Megan was apologetic  about the delay on the Bat Mitzvah pictures. She conveyed that she was busy and overwhelmed.
We are easy customers. We accepted Megan's apology.
Megan did a fantastic job on my daughter's Bat Mitzvah pictures.
Megan has photographed numerous Bar/Bat Mitzvahs at Aliso Viejo, Temple Beth El  where we are members.
So, when our second daughter's Bat Mitzvah approached we decided to hire Megan Sanders Ervoes again- MISTAKE!
It is September 18, 2016, and we still do not have our daughter's Bat Mitzvah pictures.
Countless times I have texted and phoned Megan asking for our Bat Mitzvah pictures. At first, Megan was responsive and friendly. However, has time passed so did her attitude.
It has been over two weeks since my frustrated husband phoned Megan Ervoes.
The dozens of times I have phoned Megan my phone calls went straight to her voicemail a.ka. abyss. 
My frustrated my husband, David decided he would call Megan.
Thankfully, he was more clever than I. David pushed star and 67 into his phone before he entered her phone number.
If you push star and 67 before you dailing it will mask your phone number. 
Megan Ervoes answered my husband phone call on the second ring. My husband asked her if she had lost our Bat Mitzvah pictures?
He went on to say, please let us know if this is what happened? We believe you must of lost our photos because we are unable to think of any other reasons why you have do given our Bat Mitzvah photos to us.
He reminded Megan she had been paid for the photos 15 months ago and that we still do not have our Bat Mitzvah pictures.
Suddenly I hear my husband repeat, Hello? Hello?
David then looks at me in disbelief.
Dumbfounded he states Megan Ervoes just hung up on me! 
And, you are surprised!, I quickly replied.
My husband and I used Megan Ervoes poor business ethics that evening at dinner as a learning lesson. 
David wanted our youngest daughter to understand that under no circumstances to you ever treat people or a customers the way Megan has treat us.
My daughter immediately commented, really Dad. I think that is obvious. 
I chirped in, "I think it is obvious to everyone but Megan." 
I would NEVER Recommend Megan Sanders Ervoes as a photographer. 
Megan Sanders Ervoes if you are reading this- We would like the photos we paid you for over a year ago!
I have posted my text conversations with Megan Ervoes. The text conversations were cut and pasted into 12 pages and the pages are not formatted attractively.
My texts to Megan are in blue and Megan's texts are in grey. 
I would like to note that after I emailed Megan Ervoes July 7, 2015 to request a group photo for my daughter's Bat Mitzvah thank you cards she sent me over a group photo JPEG on July, 9, 2015. Megan also sent me over 4 jpegs for our holiday cards on December 9, 2015. 
Sadly, after December 9, 2015 she would not return any of my calls or texts. 
We hope our message, our story, SHOUTS:  Megan Ervoes is extremely unprofessional!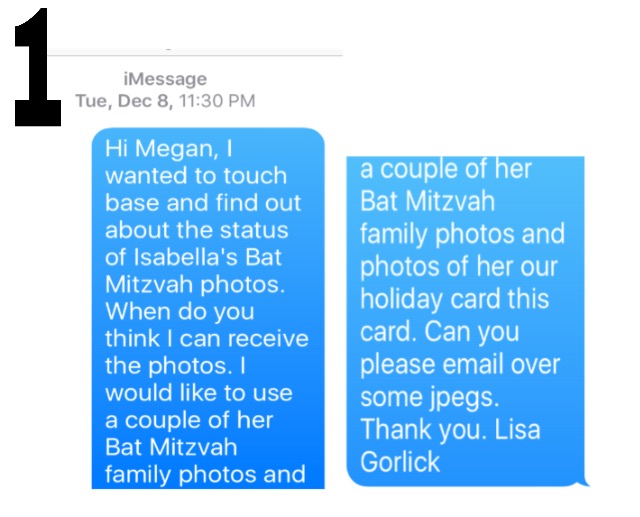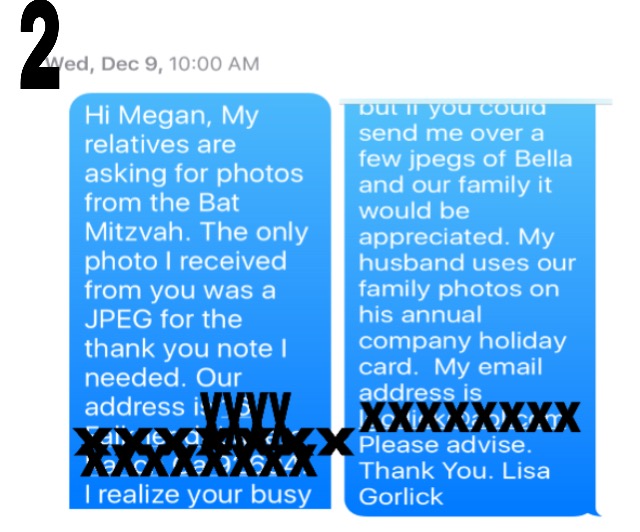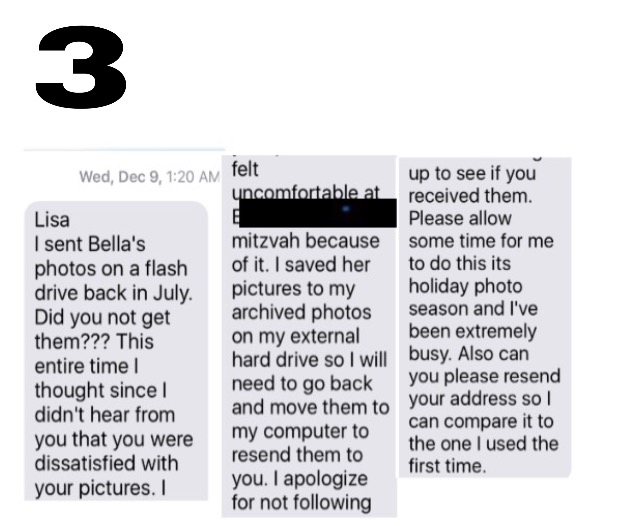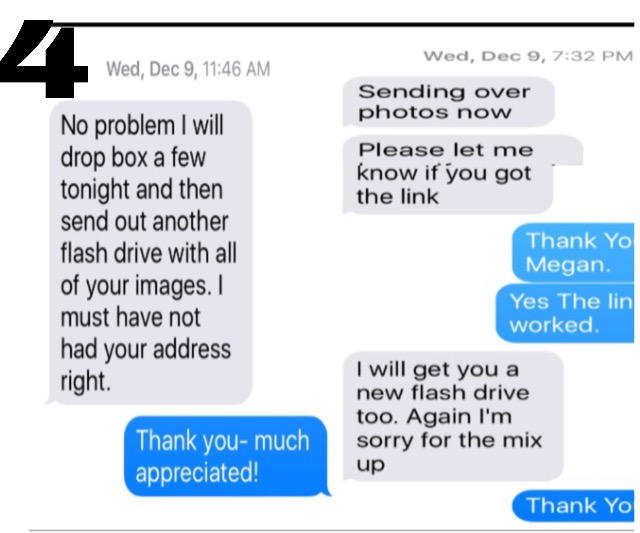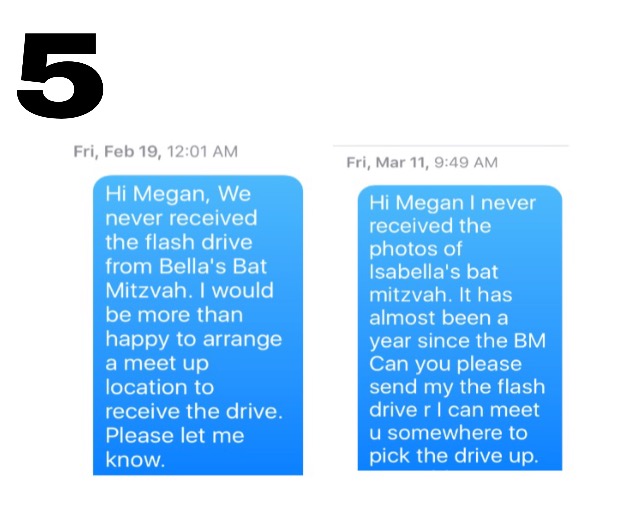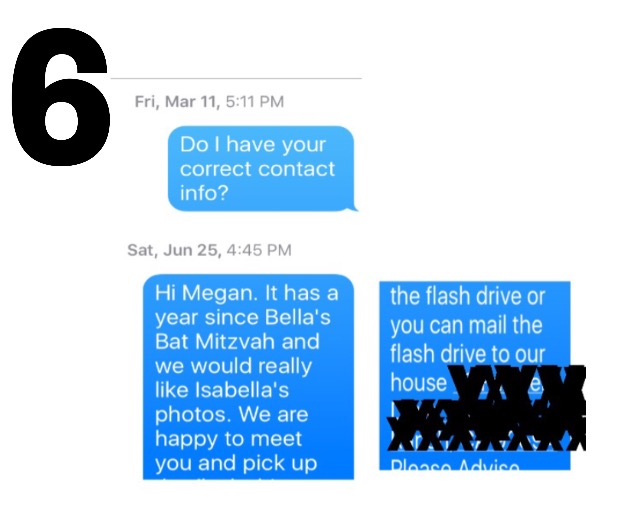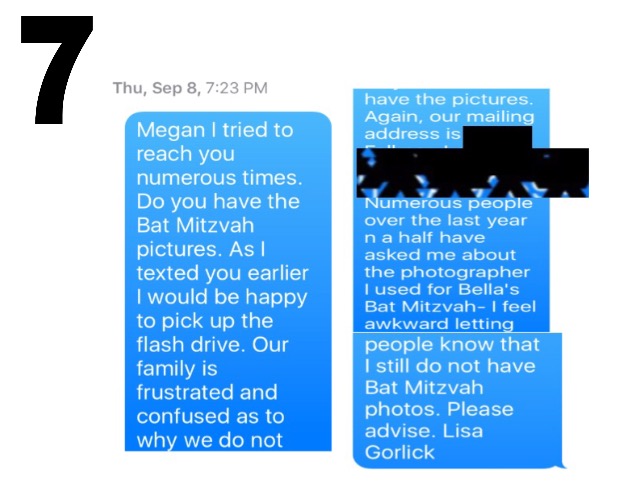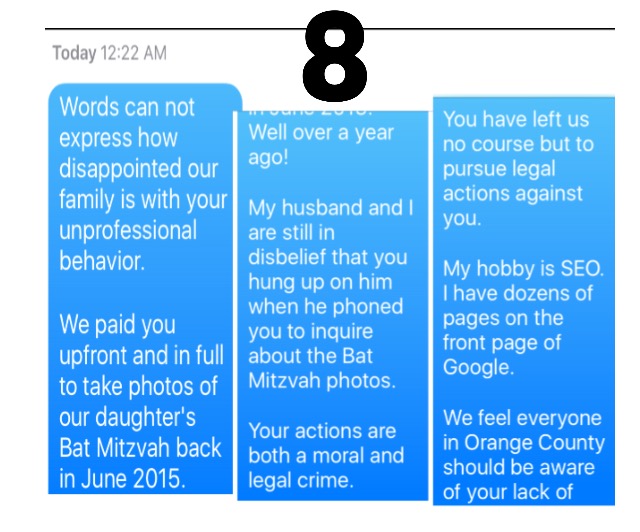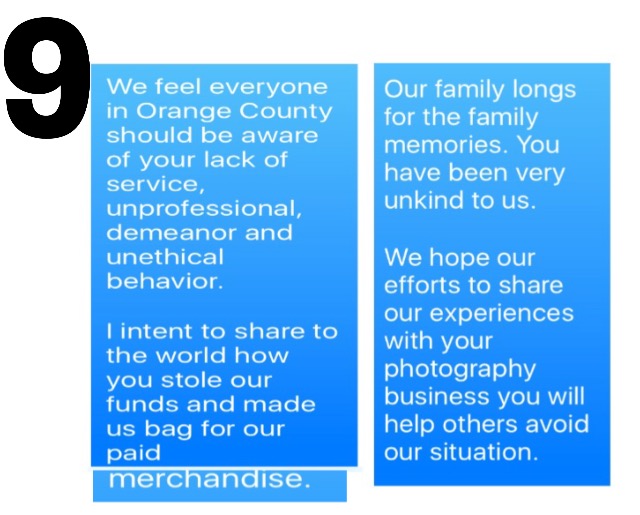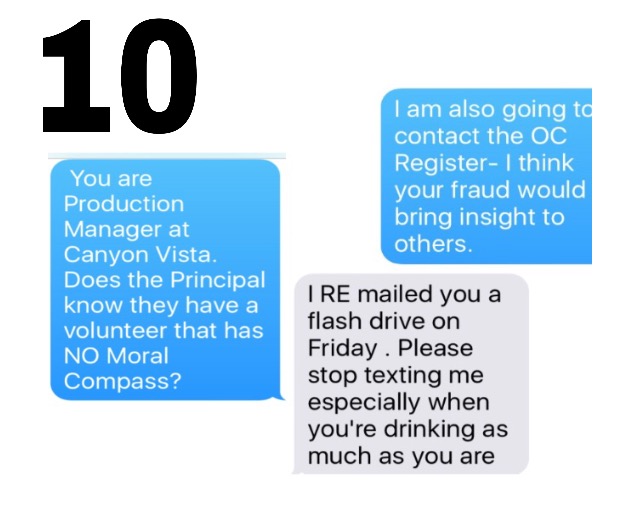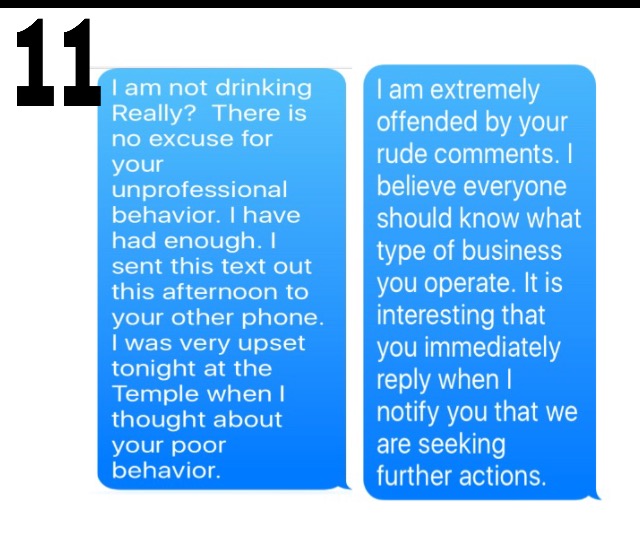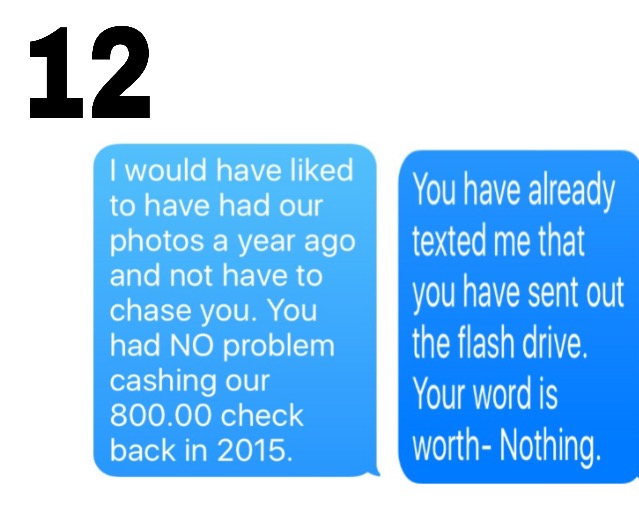 We hope by sharing our story it may help others learn about Megan Eroves business ethics. Our family is heart broken that Megan Sanders Ervoes has robbed us of our keepsake memories.
You should be ashamed Megan!
If you have any questions about my experience you can email me at Lisa@ProductReviewer.me