Terrible Granite Installation With State College Distributors, Anaheim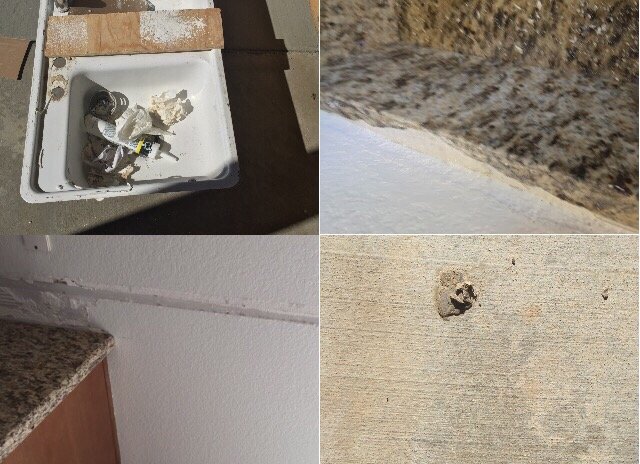 Terrible Granite Installation With State College Distributors, Anaheim 
If I could give a zero- I would to State College Distributors located in Anaheim, I would!
The granite was poorly aligned, their workers damaged three of our walls, left tape, dust, hundreds of pounds of granite, our old sink, and their trash.
Oh, as a bonus I believe it was their workers who left spit out chewing gum on our newly poured patio. Ugh…. I pleaded with the manager, Walter to help us on Saturday. Walter said he would call back; he didn't.
Now Walter's voicemail states he is out of town until next week. I called my sales rep, and she told me she could not help me right now because she is with a client. I reminded her that I was her client too.
My story continues- it is December 4, and my job has still not been completed. Walter has informed me of miscommunications within their office.
It is not fair or right that I have received payment demands from Milady's for a job that had not been completed.
I had phoned her desperately for help but no reply. She does not care that my job is not completely she just wants payment. I am very frustrated. The additional work, the company, told me they completed they did not.
It should not take a month and dozens of phone calls to install a medium size kitchen.
Ugh, I found more dried up chewing gum that I believe their worker spit out on our patio next to the trash they left for us to pick up.
The work they need to complete is minor but it does not feel right they have left me to dangle.
I am posting photos from the first time Walter at State College Distributors told me they were finished and wanted payment.
The last batch of photos was taken after

Malidy's

phoned me for payment and conveyed the project looks great.

It should not be this difficult to have a small granite job completed. I realize events and things happen, but this is just inexcusable.
Granite left on the side of our property, more chewing gum- ugh. Poor quality work and dust everywhere. What a mess!
Note above Granite left, chewing gum spat out on our newly poured patio, poor workmanship…
Above is a are photos of their workmanship. Their workers just dumped all their trash and our old sink on our newly poured patio. The photo on the bottom left is what they called finished work. When they installed the granite they scraped the wall. The photo on the right corner is chewing gum.
This is my story about my Terrible Granite Installation With State College Distributors, Anaheim.