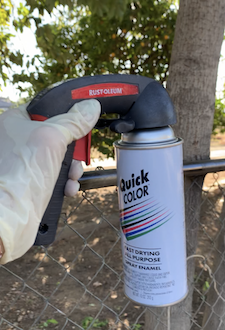 HOW TO SPRAY PAINT EASY
I LOVE THE RUST-OLEUM COMFORT GRIP NOZZLE
Product Description
Rust-Oleum 241526 Comfort Grip
From the Manufacturer
Rust-Oleum Comfort Grip enables more control for a smooth, professional finish.
Includes a 2-finger trigger to minimize fatigue.
Safety lock prevents paint from spraying unexpectedly.
The product is Comfort Spray Paint Grip.
Elegant and smooth finish
Provides maximum control while spraying any painting project
Reduces finger fatigue, making large projects easier
Durable construction withstands repetitive use
Ergonomic design
Large soft touch trigger
The video below shows me using the the Rusto-Oleum Comfort Grip Nozzle.
The painting tool makes spray painting so much easier!