GLENDALE, ARIZONA, HOLIDAY INN THREATENED AND BULLIED ME AND MY FAMILY
GLENDALE, ARIZONA, HOLIDAY INN THREATENED AND BULLIED ME AND MY FAMILY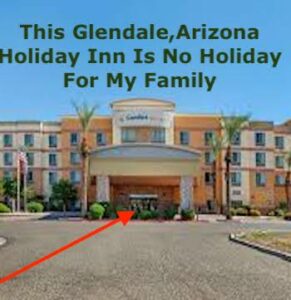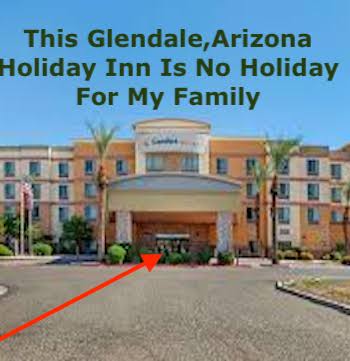 What begins as a birthday celebration for my youngest daughter ends in a river of tears. The threats from three different Glendale Arizona Stadium Holiday Inn employees ruin our getaway.
My daughter's birthday wish is to attend the Taylor Swift concert at the Cardinal Stadium in Glendale, Arizona. After I dialed the Holiday Inn 1-888 number, I booked a bedroom King Suite. 
After one night at the Glendale Arizona Holiday Inn, our girls' trip turned into misery. The next day I asked the front desk person, Ms. Eboni Richey, why they were calling. Ms. Richey coldly and curtly informs me that I need to "GET OUT." I point out to Ms. Richey that I have paid for the room. Ms. Richey impudently informs me that the Holiday Inn has refunded my second night. In shock by Ms. Eboni's actions and to Get Out, of demand, I ask Eboni if she is the manager. Ms. Eboni says no, she is not the hotel manager. I ask to speak to the hotel manager. 
Approximately fifteen minutes later, Ms. Kristine Demlong, the Director of Sales, poises as General Manager, and she knocks on our hotel door.
In an aggressive tone, Ms. Demlong tells me that my family must vacate the room. 
I conveyed to Ms. Demlong that I had paid and signed for the room. In addition, the Holiday Inn has charged my credit card. 
Ms. Demlong informs me that I am wrong and demands I vacate the room or she will call the police. Ms. Kristine Demlong proceeds in an extremely loud tone to inform me that I am trespassing. 
Another Holiday Inn employee stands next to Ms. Kristine Demlong with his arms crossed against his body, and he stares angrily at me. The man looks like an angry bouncer at a nightclub. 
I think his name is Steven, and he echoes Kristine Demlong's threats. 
Steven's body language becomes unhinged as he hollers the police are coming if I do not immediately leave. Steven repeatedly barks, leave or the police will come and kick you out. 
I again informed Ms. Demlong that I had signed the paperwork for both nights. Diffidently Ms. Demlong shouted at me that I did not sign anything. 
The scene becomes more of a nightmare as the two Holiday Inn employees threaten me and cause both of my daughters to become scared. The bullying from the two Holiday Inn personnel makes tears roll down both daughters' faces. A friend visiting my oldest daughter is also in the room, and she is in disbelief over what she has witnessed. 
The bullying actions of the Holiday Inn employees rattle my daughters and family friend. 
My family birthday gift to the Taylor Swift concert has taken a nose dive, and the happy birthday vibe has deflated. I scramble to advocate for my family and find a plan B.
I am charged on Travelocity more than $500.00 for another Holiday Inn room. My plan B is beyond my budget and costly, but I feel desperate.
On top of my additional $500. plus credit card charges; the Glendale Holiday Inn charged, uncharged, and then charged my credit card again.  I did take screenshots of what I believe is unethical behavior.
The "Real General Manager" tells me I can stay, but he cannot cancel my other Holiday Inn reservation.
I have paid over $1600.00 to stay at the Holiday Inn for two nights. The Glendale Holiday Inn employees have threatened my daughters and me. The afternoon of tears my daughter and I experienced left us exhausted when it became time for the Taylor Swift concert. I paid over $1200.00 for the birthday gift.
I want The Holiday Inn to reimburse me for the $1600.00 in hotel charges and the costs of the Taylor Swift tickets. I will be happy to provide the Holiday Inn with my receipts.
For safety reasons, I am sure The Holiday Inn in Glendale has cameras on their floors. We were staying in room 511 on March 15 and 16th. The threats by The Holiday Inn employees were made approximately between 11:15 am - 11:40 am on Friday, March 16th.
I made this YOUTUBE when I returned from the Glendale, Arizona, Holiday Inn.
I am still in disbelief at the unprofessionalism of the Glendale, Arizona, Holiday Inn employees.
I believe the franchisee is SRK Development LLC and Slowey Management. I will contact them about our family's experience at their Holiday Inn.
I will let you know if they do the right thing.