Luxe Sunset Hotel Employees Bring Out The Vacuum Cleaner And Turn Off The Bar Lights On Us

Luxe Sunset Hotel Employees Bring Out The Vacuum Cleaner And Turns Off The Bar Lights On Us
Life has it's difficult moments, so when my husband was scheduled for brain surgery at U.C.L.A. my need to make my life easier drove me to book a Junior Suite at the Luxe Sunset Hotel.
I choose the Luxe Sunset Hotel because the reviews online were positive about the hotel close proximity to U.C.L.A., the hotel's cleanliness, and their well-appointed rooms.
The reviews were correct.
The Luxe Sunset Hotel offers close proximity to U.C.L.A., the hotel is lovely, and their rooms are well appointed.
However, the horrific customer service the night staff displayed was alarming, pathetic and needs to be addressed.
Here is my Luxe Sunset Hotel dining review:
It is Friday night, and I arrive at the hotel at approximately 9:40 p.m. to check-in.
My first question to the brunette hair thirty-something gentleman at the registration desk is, "when does your restaurant close?"
The man behind the counter kindly conveys the hotel restaurant closes at 10:00 p.m.
I glance to the right of me and notice several people are in their bar area.
I go on to tell the man that it's a bummer the restaurant closes in about twenty minutes.
I ask if I can order food from the restaurant at the bar.
The Luxe Sunset Hotel employee smiles and says, of course!
He goes to tell me that the bar is open until 12:00 p.m.
I say that is perfect!
I then quickly walk out to my car and tell my girlfriend that we need to order food and drinks immediately.
In need of food and some cheer, my girlfriend and I make it to the bar in under a minute.
My girlfriend points me to an oversized chair, and I crash down on the plush cushion.
She then props a pillow between the heavy weight of my body and the corner of the chair.
My girlfriend, Jay is my guardian angel through my husband's unexpected brain surgery.
Jay takes charge and goes up to the bar to order us some food and drinks from the bartender.
Dining At The Luxe Sunset Hotel 
Even as I sit half-dead on a loveseat the bartender's body language is easy to read.
Our last minute food order does not seem what the bartender wants in his landscape.
Knowing our hunger, our long day, my girlfriend Jay orders numerous appetizers, an entree, side sides and a bottle of red wine.
My girlfriend Jay is a foodie, the owner of restaurant franchises and she understands restaurant complexities.
The bartender smiles as he brings out our food to the medium size coffee table that is in front of a larger three seat couch I have moved over to.
It is brain surgery; that is my girlfriend's explanation of why the bartender has a new attitude.
She had told the bartender about my husband's brain surgery and how my husband lays in an Intensive Care bed at U.C.L.A. Ronald Reagan Medical Center.
It is about 10:10 p.m. when the bartender checks on us and my girlfriend order us another bottle of Cabernet Sauvignon.
We inhale the mouth-watering delicious food and drink our wine in exhaustion.
As we dine, a waterfall of emotions falls through my lips. Jay is there to listen to me, and she laughs at some of my dark humor.
We also both note the charm of the Luxe Sunset Hotel. It is nice to see a diverse group of people in the bar area.
Bar Service At The Luxe Sunset Hotel 
Around 10:20 pm the few groups of people at the bar area have left.
At 10:25 p.m. the bartender is asking us to close our tab.
A few minutes later the bartender thanks my girlfriend for her generous tip and offers us a couple of to-go boxes.
We tell the bartender that we would like to sit here and finish our meal.
The bartender agrees to our request and then vanishes.
Several minutes pass and a bell staff walks into the bar and turns off the lights in the back of the bar and darkens the already lowly dimmed lights.
A minute later another Luxe Sunset Hotel employee brings out a vacuum cleaner with a long bright long yellow cord attached, and he parks the vacuum cleaner within five feet of us.
My girlfriend and I both look at each other in disbelief.
Hello, we had just purchased two bottles of wines and numerous food items from the Luxe Hotel bar, it is not yet 11:00 p.m. and the night staff employees are rolling out their vacuum cleaner.
A woman who was at the bar earlier comes back into the bar area to order a drink.
Where is the bartender she asks us?
We tell her the bartender has left.
The woman is disappointed by the bar's early closure.
We inform her the staff has already brought out the vacuum cleaner standing next to her to chase us out.
She shakes her head and then goes to the front desk to try to obtain bar service. She does not prevail.
Several another late check-in party's scopes out the bar for service.
My girlfriend and I continue to chat about the horrendous customer service and the vast sums of income the Luxe Sunset Hotel is not receiving.
We also find the caliber of their night staff questionable. 
The night-crew seems to only enjoy loud, boisterous conversation between each other in the hotel's main lobby.
Jay and I notice that different hotel staff members keep on walking by the bar area and staring at us. 
Being Kicked Out Of The Bar At The Luxe Sunset Hotel
It is unbelievable that fifteen minutes later a Luxe Sunset Hotel an employee turns off the light on us.
After he leaves us sitting in a dark barroom, with our plates of food and glasses of wine in front of us, he looks over his shoulder at us and says in a deep, loud voice, "ladies, it is time to go."
I would like to note that we strongly felt if we were men we would never have been treated this way!
In candidness, we also felt the African-American staff members would not have behaved so poorly to us if we were not two middle-aged white women. 
Hence, the hashtag, #OCWhiteWomen  
We explain to the man that we have not finished our meal and we still have a bottle of wine.
His brazen reply was, "well it is time for you to go."
I am shocked and I ask him for his name.
The discourteous man, I should write jerk, offers a sarcastic pronunciation of his name and gives me a contemptuous look.
In a bit of shock, I stare at him and ask him to repeat his name, so he decides he will loudly and tactlessly spell his name for me.
I then request a to-go box for our appetizers from him.
Curtly, he says the hotel does not have any to-go boxes.
My girlfriend and I decided to consolidate the remainders of our three appetizers onto one plate and take the plate and our bottle of wine to our room.
The next day, we enjoy a delicious breakfast in the Lux Sunset Hotel restaurant.
The restaurant service is lovely, and I should note their lattes are tasty.
I check-out of the Luxe Sunset Hotel.
It has been over a week since my stay at the Luxe Sunset Hotel, and the rudeness of the yellow vacuum cord and tackless employees still linger in the back of my mind.
I would like to write that I am grateful my husband's brain surgery recovery is going well.
Here is a photo of my husband before he left the U.C.L.A. Ronald Regan Medical Center: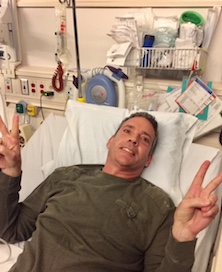 I would like to also give a special shout-out to the talented, remarkable U.C.L.A. Neurosurgeon Geoffrey Colby and his amazing medical team. 
Dr. Geoffrey Colby saved my husband's life. The entire week has been surreal.
However, I will always feel indebted, grateful and thankful for Dr. Colby's incredible talent.