Redlands Remodel Boarded Up By Barrios Handyman Services, Number 15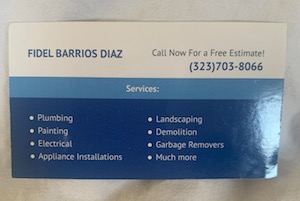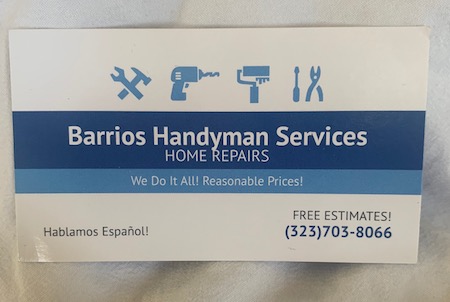 Redlands Remodel Boarded Up By Barrios Handyman Services
Fidel Barrios Diaz, the owner of Barrios Handyman Services, returned our service inquiry within twenty minutes. When Barrios Handyman Services was able to provide us a next day quote, we were impressed.
When Fidel Barrios of Barrios Handyman Service arrived at our property to quote our project, I was unsure if I would use their service.
However, Fidel's knowledgeable, polite, and professional attitude steered our decision their way.
Barrios Handyman Services was able to board up our Redlands remodel home the next day. Fidel provided us with the cost of goods receipt from Home Depot and finished the job the same day.
The job was to board up the windows throughout our home.
Spoiler Alert- Readers following our Farmhouse Remodel have read that we are disappointed by the quality, performance of Eco Alliance of Rancho Cucamonga.
On a positive note, we are happy with the quality and fair price that Barrios Handyman Services.
Barrios Handyman Services is available in a large portion of Riverside and San Bernardino County.
You can reach Fidel Barrios at 323-703-8066.
Thank you, Fidel!
Sadly, our forever home is boarded up.