Plumbers Inc Riverside California Review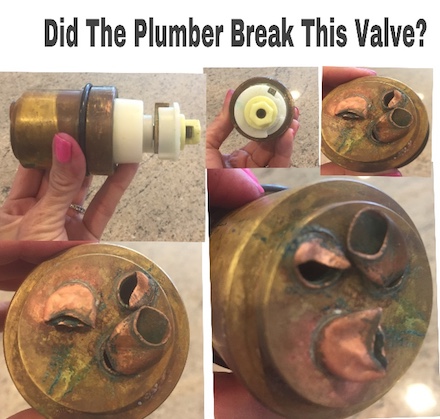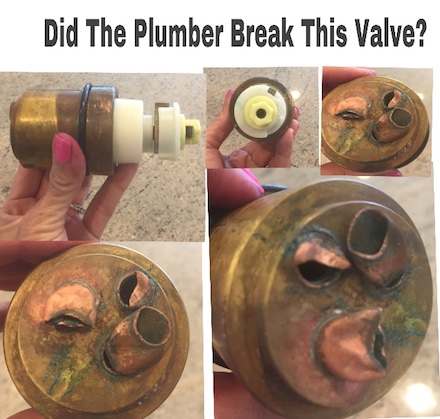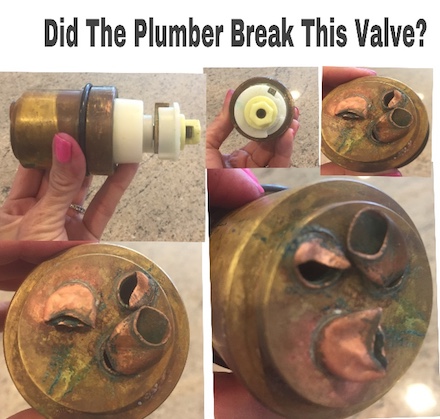 Plumbers Inc Riverside California Review
This is a Plumbers Inc Riverside California review.
Our $75.00 leaky cartridge turned into a $500.00 valve!
I believe it was the Plumbers Inc. plumber's error but the Plumbers Inc. manager, Chris will not return my phone calls.
Here Is My Plumbers Inc Riverside California Review
Our home warranty company American Home Shield sent Plumbers Inc of Riverside to repair a leaky shower faucet in our home.
The Plumbers' Inc. plumber arrived in a timely manner.
After looking at our shower the plumber told me that he would need to order a cartridge to resolve our leaky shower faucet.
The next week the Plumbers' Inc. plumber arrives at our home to replace our shower faucet cartridge. 
After the plumber has been in our home for approximately a half hour the plumber informs me that our valve is broken.
I look at the plumber is in disbelief and I ask the plumber how did this happen?
The plumber tells me that the valve is corroded from our water. 
I tell the plumber that water corrosion of the shower valve is difficult to comprehend.
I then ask the plumber if he used plumber's grease when trying to loosening the valve. 
I am in dismay when the plumber tells me that he did not use any plumber's grease when trying to loosen the valve!
I proceed to tell the plumber that I believe he broke our shower valve.
Delta Shower Valve Background
Our home is only thirteen years old 
The plumber did not put any grease on the valve when trying to loosening the shower valve
The shower valve looks like new
The shower valve appears as it has been smashed with a hammer
I watched dozens of YouTube video about Delta shower valve and all these YouTube videos stated that you need to be gentle when loosening the valve. If you pull on the valve you will break the valve. 
I feel like I am being held for ransom by the plumber.
I have children in our home and no water.
The plumber tells me it will be $500.00 to repair the valve.
I phone our home warranty company, American Home Shield and convey my concerns.
Sadly, even though we will have used American Home Shield for almost 20 years I am left with little option. 
Side note, American Home Shield's parent company is Service Master.
I am going to send Ms. Mary Kay Wegner President of ServiceMaster Franchise Services Group a letter outlining my concerns.
I hope that Ms. Wegner can help me or directly to someone who can help me.
I will let you know if Ms. Wegner replies. 
Back to my Delta Shower Valve Background:
As the plumber installs our new valve our home is left without water for most of the day.
I pay the plumber.
I write on the invoice that I believe the breakage of the valve was caused by the plumber.
Plumber's Crazy Request
As I am walking the plumber out our front door he tells me that there will be a follow up to his service call.
He then tells me that he would appreciate a five-star review.
A five-star review, I blurt with loud laughter. 
Are you joking me I ask the plumber?
I tell the plumber that I feel like I am in a Steinfield episode. 
Plumbers Inc. Riverside California Follow-Up
I am still waiting…
American Home Shield please help us! 
I feel our household was unfairly treated.
Who Is Plumbers Inc Riverside California?
I have tried Google, Bing, and numerous other search engines and I am not able to find Plumbers Inc. 
Their invoice states Plumbers Inc is located in Riverside.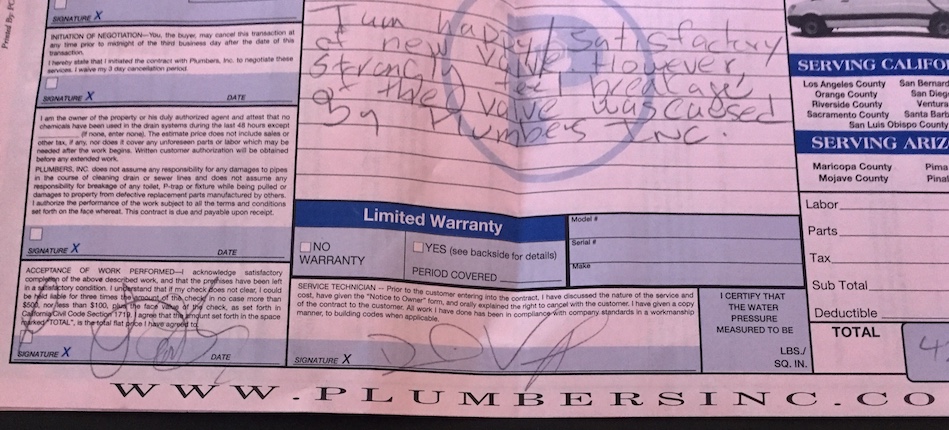 I find it odd I am not able to find Plumbers Inc on a search engine. 
I typed the PlumbersInco.co website address I found on the bottom of my invoice into the URL bar.
Somewhere, I am not surprised that Plumbers Inc. does not have a website.
The www.Plumbersing.com website on their invoice is for sale at GoDaddy.
Below is a photo of the domain available on GoDaddy.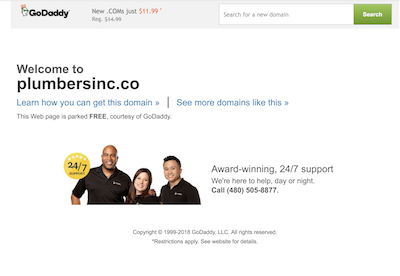 Who is American Home Shield sending to homes as their vendors? 
Ugh. 
Unfortunately, this is our second negative experience with American Home Shield.
We had a horrible experience where the vendor American Home Shield sent to our house cut the air conditioning wires.
The vendor told us that rats ate the wires and we would have to spend $3000,00 to repair the air conditioning unit.
We are thankful that we had photos of the intact wires the day before when another vendor came out to give us a quote.
You can read about our experience with Mr. Mark Barry and American Home Shield on this weblink.
Valve Smashed
I have shown numerous contractors the shower valve.
Each contractor has told me that it looks like the valve has been smashed with a hammer.
What Do You Think About Our Delta Shower Valve?
Here are several photos of the valve: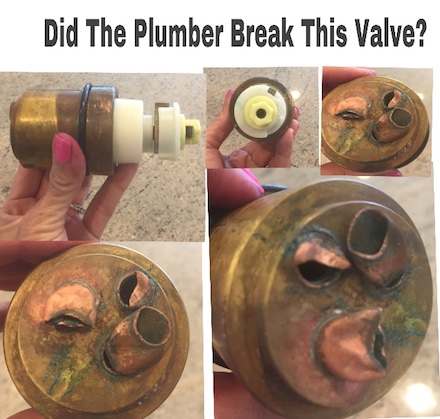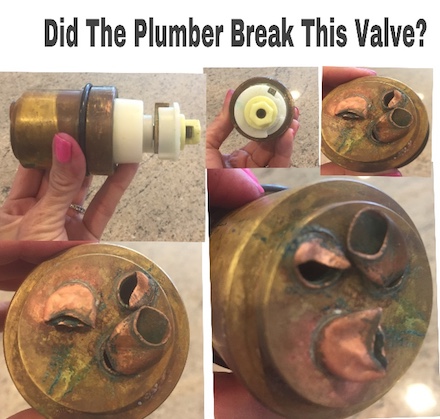 #PlumbersIncRiverside
#RiversidePlumber