Kohl's Coupon Codes Saved Me $1000.00! on Patio Furniture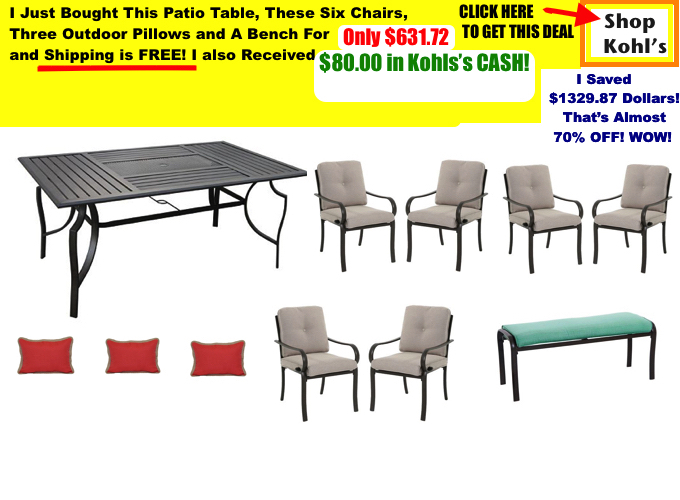 Kohl's Coupon Codes Saved Me $1000.00! on Patio Furniture 
Kohl's Coupon Codes Saved Me $1000.00!
Yes, It is TRUE- With These Kohl's Coupons I Saved Over $1000.00!
Learn how you to can SAVE $50 off your Patio Furniture when you spend $200 PLUS an additional 15% OR 30%! 
Your Discount of 30% is if you use your Kohl's Card.  
You need to Click on the Kohl's Add Above ↑↑↑

Then Add PATIO50 into the Promo Code at Check Out. You will receive $50 OFF your $200 Purchase
$50 off your patio furniture, outdoor window, rug, pillow, or cushion purchase of $200 or more with code PATIO50. Select styles. 5/13-5/22
If you have a Kohl's Card you can add the Promo Code REFRESH30 at checkout and you will receive the 30% OFF instead of 15% 

Shipping is FREE! 
With These Kohl's Coupons, I Saved Over $1000.00.
Step-by-step on how I ordered the patio furniture in the picture above. I ordered the set of chairs and a pillow.
The set of chairs was $199.00 before the coupon so I added an outdoor pillow to bring the amount to over $200.
I then added the coupon code for the Kohl's May Patio Furniture Promo Discount and used the Kohl's credit card coupon link.

(The Links Are Above).
The above 1 & 2 Step I repeated 3 times because I need 6 chairs.

My order of  six chairs includes 3 bright coral pillows. Again, a pillow was added to each of my Kohl's orders to have my purchase price reach the $200 price needed for the Kohl's Patio Furniture coupon.
I proceeded to my fourth purchase. I clicked on a patio table but the patio table was well below the threshold to receive the $50 OFF Kohl's Patio Furniture Coupon. So, I added a black rod iron bench topped with a cheerful aqua cushion. I knew  my daughters would enjoy this bench outside these bedrooms this summer. 
Kohl's offers FREE Shipping! Shipping Is FREE!
Happy Shopping! Happy Summer!
 I just made $80.00 to spend at Kohl's from MAY 23- May 30, 2016 with Kohl's CASH.
I

m

ade

so much $$$$ shopping online at Kohl's today! 
I am excited to receive our new patio furniture. I love Kohl's FREE SHIPPING PROMOS. Our new outdoor furniture will arrive in the next few days to our front door- Love It!
I spent a large amount of time at home, especially my backyard. However, my backyard patio furniture is over a decade old and extremely weathered. It is time for an upgrade.  
This Kohl's Patio Furniture Discount Coupon has enabled our family to enjoy a new outdoor dining set. Plus we will receive three coral outdoor pillows and an adorable outdoor bench- yay! 
If you know of a terrific deal please email me at Lisa@ProductReviewer.Me
I LOVE KOHL'S DEALS! 
Please, LIKE, HypoGal on Facebook.
You can read about other Shortcuts To Living With A Chronic Illness on the HypoGal Blog and on the HypoGal Website.