Three Robberies In Our Redlands Home Remodel By Eco Alliance Of Upland, Number 9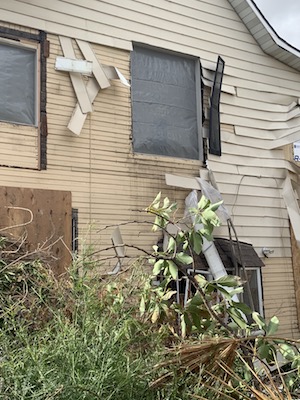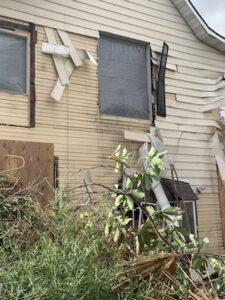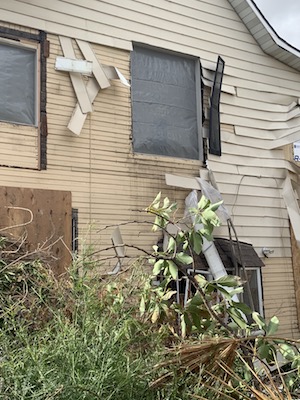 Three Robberies In Our Redlands Home Remodel By Eco Alliance of Upland Number 9
Sadly, our Redland home is robbed three times in three months.
The first time someone broke into our garage and stole tools stored by our construction crew.
Sadly, the second time, the thefts helped themselves to construction equipment kept inside our home.
Yesterday my husband and I discovered that our air conditioning copper wires are missing, and our unit no longer functions.
What alarms me the most is when I tell our General Contractor that someone broke into our caged air conditioning system, Holloway said it is not his fault; people get robbed.
I think General Contractor Deon Holloway is missing why I am upset. Our house looks like a welcome sign to "ROB ME".
The first photo is from yesterday, late in the afternoon. The rains are approaching and our Redlands home remodel is left wide open!
The second is from a photo I snapped today.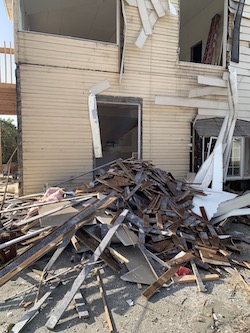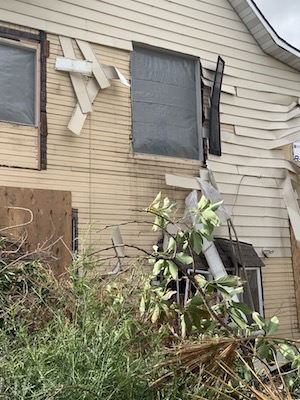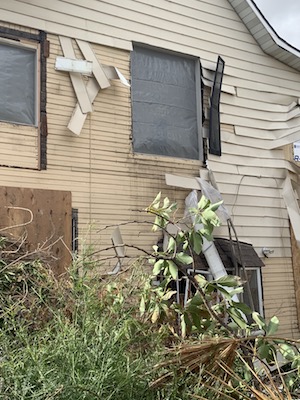 You will see the inside of our Redlands remodel today when you click the photo below:
Yesterday, my husband and I were beside ourselves that our remodel looks this way after three months.
The completion date on the Eco Alliance contract is October 10, 2020. When we blew by that date, General Contractor Deon Holloway provides us with a new three-week schedule.
Eco Alliance's new completion date is now in the rear view mirror.
Deon Holloway confirms that we are at our project more than he is, and there is no need for us to travel back and forth to observe progress.
I believe three robberies of our property, our life savings invested in this home provide a reason.
My husband and I are not healthy people, but with our family finances on the line, back, forth, our pickup truck drives to our unfinished Redlands California Farmhouse.
I hope that as quickly as our Redlands remodel with General Contractor Deon Holloway went down the rabbit hole, he finds his way back to solid footing.
A positive review: My stomach roars with hunger as we drive out to Redlands to confirm plastic is up on our home's windows.
I find a half-eaten box of Trader Joe's Harvest cookies. The sugar cookies have  yogurt icing, topped with sprinkles, and they are delicious!
If you enjoy animal cookies with frosting then these T.J. Harvest cookies are a winner!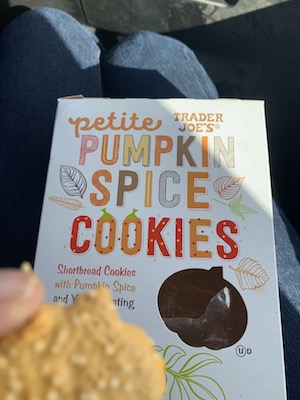 ECO ALLIANCE UPLAND CALIFORNIA
General Contractor Deon Holloway Of Eco Alliance Is The Company Remodeling Our 1908 Farmhouse.
Eco Alliance Is Located In Upland, California, 91786.
You Can Reach Eco Alliance's, Upland California Office At 888-721-3637.
Click on this link to view Eco Alliance Inc. web page.
SMART SOLAR UPLAND CALIFORNIA
BRIGHT SKY SOLAR RANCHO CUCAMONGA CALIFORNIA
Deon Holloway's other heads two solar companies, Smart Solar in Upland, and Bright Sky Solar in Rancho Cucamonga California. One of these companies may be able to help you with your residential or business solar power needs.
You have not used Bright Solar located Rancho Cucamonga or Smart Solar in Upland, California.
Eco Alliance Inc.com Contractor's License is #1059716
HOW TO FIND A CALIFORNIA STATE LICENSED CONTRACTOR
You can find out if your contractor is registered with California State License Board on this web link: CA.Gov Contractors State License Board.
Please note a California contractor license number doesn't contain alphabetic characters. Each contractor's plastic pocket license will show the respective license number. Begin entry of your license number at the left position and don't exceed 8 digits in the license number.
You can find California General Contractors Fast Facts on this web link.
The above California Contractors State License Board share what General Contractors can and cannot do.
If you have an issue with the way your construction project is being handled. The California Department of Consumer Affairs, Contractors State License Board provides you with a way to have your construction issue heard.
The California State License Board (CSLB) complaint process is designed to protect the public in matters pertaining to construction and to assist in the resolution of construction-related complaints.
CSLB addresses violations of California Contractors License Law, whether the contractor is licensed or unlicensed, for up to four years from the date of the act.
BEFORE, AND AFTER REMODEL STORIES
I would be happy to showcase the photos and stories of your before and after home remodels. I can include your name or you can be anonymous.
Please email me your information at email: Lisa@ProductReviewer.me
We all learn from each other.
Fingers crossed, I will be able to share with ProductReviewer.me readers, the happily ever after 1908 farmhouse remodel story.