I Love My Homitt Electric Spin Scrubber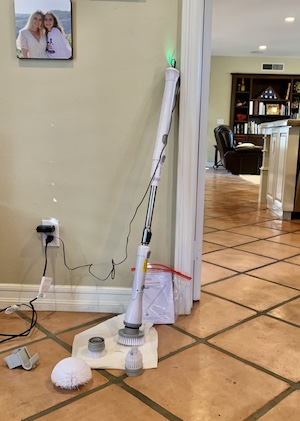 Hommit Electric Spin Scrubber 
I Love My Homitt Electric Spin Scrubber I bought this year, 2020.
The Homitt Electric Spin Scrubber is fabulous addition to our cleaning tools during the Coronavirus pandemic.
The Homitt Scrubber a fabulous way to clean shower doors, shower floors, kitchen sink, pool titles and so much more.
As you can see from the photo above we have Mexican Saltillo tile floors. We love our Saltillo floors but keeping the floors clean seems to be an everlasting chore.
The Homitt Electric Spin Scrubber makes my life easier because everyone in my family can use this electric scrubber.
The scrubber's adjustable wand make it easy to clean different types of areas.
In the video below I tell you how Homitt electric scrubber operates easily and Homitt charger works great.
If you are interested in learning more about this product than click here.
The Homitt Electric Spin Scrubber is also featured below. I purchased my Homitt Scrubber through Amazon. I use Amazon Prime and I love Prime.
I spent hours researching the best electric spin scrubber and I have to write the product reviews on the Homitt Electric Scrubber at spot on!
The Homitt Electric Spin Scrubber is an Amazon Choice product, and I agree.
Amazon Prime Benefits
Amazon Prime benefits enable you to have quick two day delivery on millions of products
Unlimited Reading
You can read for a selection of thousands of e-books, free.
Magazine reading free!
You can read current magazine such as;
Southern Living
Runner's World
Shape
Vanity Fair
OK
In Touch
Beautiful Home
New York Magazine
You can enjoy watching thousands of television shows and movies on Amazon Prime.
Amazon Prime Music
You can listen to over two million songs and browse Prime Playlists, all ad-free with Prime Music.
If you are a student with a valid school email address, you can receive a free six-month trial of Prime Student.
After the Amazon Prime Student trial, you are offered a discounted annual membership fee of $59.
If you know of a fabulous deal or service that might be beneficial to ProductReviewer.Me readers then please email, Lisa@ProductReveiwer.me
---