Learn What Happens When We Find Out Our Fencing Is Used Number 10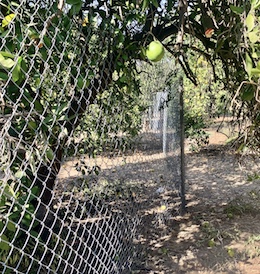 Learn What Happens When Our Redlands Remodel General Contractor Installs Used Fence
1908 Farmhouse Remodel number 10
We learn that we need to have a watchful eye on our Redlands farmhouse remodel.
Since robberies have taken on our property three times in the last ninety days, we emphasize to General Contractor Deon Holloway that we need our fence installed.
CHAIN LINK FENCE LOOKS DRUNK
The property that neighbor ours calls to convey his concern over our crooked fence installation.
Our neighbor's biggest and most vocal concern is portions of the fence are on his property.
He goes on to inform us that if looks like a drunk person made the fence line.
The fence is oddly shaped and does not proceed in a straight line.
When my husband and I see the fence, we have to agree. Our fence's line does weave in and out, forms open triangles, and the fence looks awful.
Below is a  photo of our chain link fence;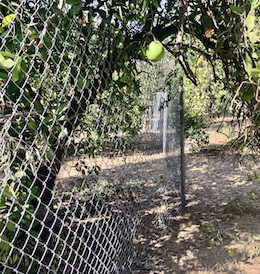 CHAIN LINK FENCE ECO ALLIANCE UPLAND
Holloway of Eco Alliance Upland tells me numerous times my husband's oversight of the fence is why our fence weaves in and out of our neighbor's property.
I have to say I disagree with Deon Holloway when he states my husband interferes with the fence project.
We have sent Holloway a surveyor map of our property coordinates and yet his fence installer.
FENCING ECO ALLIANCE SUBCONTRACTOR
A large portion of our financial future is in Deon Holloway's hands, and I am scared.
It has been weeks since our fence is installation is incorrect.
Fortunately, my husband is overseeing our home remodel. I go out to the property with my husband, and I notice a worker at our fence.
I introduce myself to the chain link fence installer. As we speak, my concern grows. We learn;
The subcontractor thought Holloway owned the property.
Our 660-foot fence is portable.
The fencing does not have concrete footings.
Our fencing is used, and even our posts are used.
Video with Eco Alliance of Upland subcontractor regarding the use of used posts and fence on our property;
Our fence is not fixed. Stray animals wonder on our property, and our neighbor's voice grows.
General Contractor Deon Holloway
Holloway claims he will provide us with the new fencing we have purchased from his company, Eco Alliance Upland. We are still waiting on new chain link fencing.
As we wait on our chain link fence installation on our Redlands property, Holloway informs us that we will be able to live in our home
next Monday, November 23, 2020.
November 23, 2020, is next Monday.
Bright Sky Solar, Inc Rancho Cucamonga California
With frustration, we try to obtain construction updates. The last couple of times we contacted Deon Holloway, he says he is on a roof and he is unable to speak to us.
Corporationwiki.com list Deon Holloway as the President of Bright Sky Solar, Inc Rancho Cucamonga, California.
If my husband and I knew that Holloway was running different companies, we would have passed on the Eco Alliance of Upland remodel estimate.
We hope that the Eco Alliance of Upland creates a liveable space for our family by next Monday.
We also hope that our General Contractor, Deon Holloway, keeps his word.
As of today, November 19, 2020 our fence is not fixed. 
Eco Alliance of Upland Subcontractor
The fence subcontractor for Eco Alliance of Upland states he has not been paid for his work.
My husband and I have heard different stories from Deon Holloway of Eco Alliance and his subcontractor, fence installer Steve.
Steve conveyed to my husband and I that  Holloway of Eco Alliance told him it is alright to put up used fencing and posts.
Steve is upset and frustrated because he told us he has not been paid by Eco Alliance of Upland, California.
Our is fence horrific! However, Steve may do good work. We just do not know. You can reach Steve, the fence installer at 818-934-2802.
My husband and I are exhausted from dealing with Eco Alliance of Upland.
---
If you have used Deon Holloway's services from Bright Sky Solar, Inc Rancho Cucamonga California then please email me your experience, Lisa@ProductReviewer.me.