Farmhouse Makeover Begins number two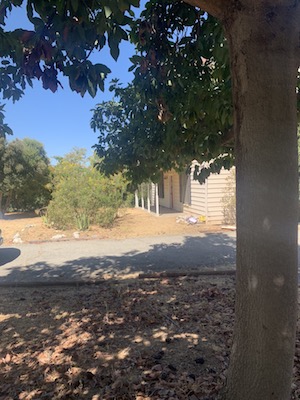 General Contractor, Deon Holloway of Eco Alliance Begins Our Redlands Farmhouse Remodel
July 31, 2020, the farmhouse is ours, and our farmhouse makeover begins. We need a new adventure and a fresh start. The 1908 farmhouse, with its massive lot, a citrus orchard that has lacked water for over a year, is ours.
This farmhouse is a special place; it is unlike any place I have ever lived. I feel blessed to have this opportunity. I also feel scared, overwhelmed, excited, and my heart is full of joy.
I thought the farmhouse would be a fun adventure for people to watch, but my skill set with taking photos and videos is very limited, as you will see.
General Contractor Deon Holloway of Upland, California
With our General Contractor, Deon Holloway at the farmhouse our journey begins.
We choose our General Contractor, Deon Holloway from a narrowed down list of three PACE contractors.
Fingers crossed, our General Contractor, Holloway will provide us with a Nordstrom look at, with our Target budget.
Mr. Deon Holloway appears to be a no-nonsense person; I like that. The way he  regularly takes notes on his IPad brings me a sense of security.
I also feel a sense of security because my husband and I will not have to pay the loan until completion of the farmhouse project.
I know it reads a bit unbelievable, but it is true! A government program named PACE will allow you to borrow money if you use the funds to make your home energy efficient. An example of an energy product is specific rooftops, energy-efficient windows, insulation, appliances; the list of approved products is everything this 1908 farmhouse needs.
The government PACE loan does have strings. The fees for the PACE loan remind me of a loan shark. However, without the PACE loan, we would have to wait to begin our farmhouse adventure. So, we pay outrageous fees, and we receive most of the money we will need to update the farmhouse.
Our PACE Funding representative is Mr. John Munoz. If you live in Los Angeles and are thinking about an energy efficient project then I could be happy to provide you with Mr. Munoz's contact information. Please email me at Lisa@ProductReviewer.me
Below is a brief overview of our new property. I am beyond nervous and excited!
UPDATE- FRAUD BY MR. DEON HOLLOWAY OF ECO ALLIANCE
Betrayed, hurt and energy are what my husband and I feel when we learn Deon Holloway is a conman who frauds us out of tens of thousands of dollars with government backed energy program.
Please be careful if dealing with Mr. Holloway or any of his companies, Bright Sky Solar, HahaSmart Solar or Eco Alliance. It would not surprise us if Deon Holloway has companies under other names.
Ask Mr. Holloway for proof of his General Contractor's License; Holloway is not a General Contractor.
Please, Deon Holloway, run, steady and fast! 
Ready, set, go!