Find Out If General Contractor Deon Holloway of Rancho Cucamonga Gives Us Liquidated Damages? Number 12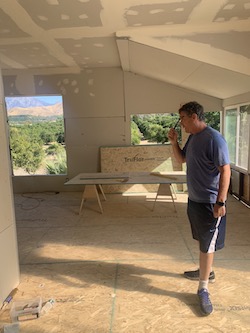 Will Our General Contractor Deon Holloway of Eco Alliance Give Us Liquidated Damages? Number 12 
Tick tock, the Eco Alliance of Rancho Cucamonga's time to remodel our Redlands farmhouse is up once, twice, and now it looks like three times.
Scenting our frustration on our Redlands farmhouse remodel progress, our general contractor, Deon Holloway, and owner of Eco Alliance of Rancho Cucamonga, provided us with a completion guarantee.
General contractor Deon Holloway wrote that beginning November 24, 2020; Eco Alliance will credit us $1,000 a day if our home is not habitable.
Holloway's definition of habitable is hugely different from ours, but we all agree that we will need running water, electricity, flooring, windows, and doors that lock.
I shot the videos below on Sunday, November 22, 2020;
In this video I walk through the downstairs and upstairs of our Redlands farmhouse remodel;
I applaud general contractor, Deon Holloway of Eco Alliance for finally having his crew install heavy plastic on some of our windows.
Here is a video with our windows covered with heavier plastic;
Below you can see how we were greatly frustrated that general contractor, Holloway planned to secure all our open windows with one old box of thin plastic.
The rains are approaching, Holloway told my husband, David the windows would be sealed by his crew. We arrive Friday at 2:30 PM to find no workers and our home wide open.
My husband and I left our Redlands remodel around 5:00 as the rains approached.
The Eco Alliance of Rancho Cucamonga crew did not return while we were there. We did wait there for hours.
If you would like to view the video Farmhouse Remodel number 8 about our frustration with Eco Alliance of Rancho Cucamonga as rains approach our Redlands home then click, here.