WHY WE ARE QUESTIONING OUR ECO ALLIANCE OF UPLAND REMODEL, Number 8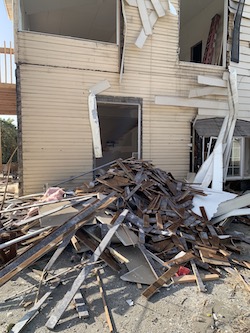 WHY WE ARE QUESTIONING OUR ECO ALLIANCE OF UPLAND REMODEL
Redlands Farmhouse Remodel Number 8
The demolition of our Redlands farmhouse home began over three months ago, on August 3, 2020.
The video below is the work of General Contractor Deon Holloway.
My husband and I are sad, upset, and disappointed by our Redlands farmhouse remodel slow progression.
Our contract states our Redland farmhouse will be complete by October 10, 2020.
We understand life happens, but it is almost weeks after our General Contractor, Deon Holloway's revised finish date of October 28, 2020.
Holloway of Eco Alliance, Upland states to us that he ran into some bumps on our Redlands remodel.
When you watch the video below, please email me what you think, Lisa@ProductReviewer.me.
I took the video below yesterday, November 6, 2020.
My husband and I are upset because the rain is in the forecast and look at our home!
When I speak to General Contractor Deon Holloway, he powerfully conveys that he would run the project the same if it were his property.
I find it baffling that a General Contractor that I thought had organizational skills, was honest, and trustworthy thinks this is ok?
You can watch General Contractor, Deon Holloway explain his construction background in Meet Deon Holloway of Rancho Cucamonga, California in video number 4.