Our Redlands Deck Built By Eco Alliance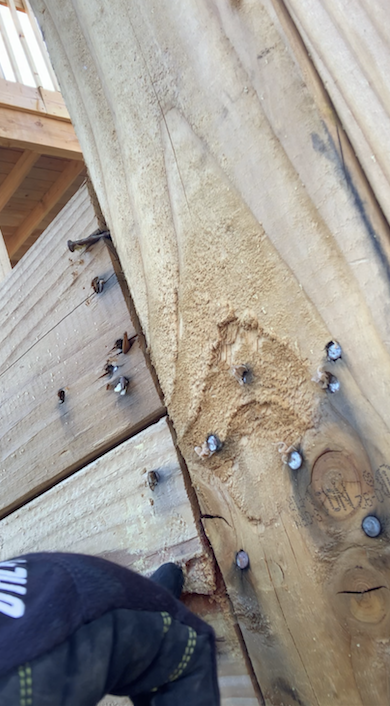 Shockingly, Deon Hollloway of Eco Alliance believes the deck in the picture below is good work!
Two General Contractors have told us that we must knock down our home's front balcony and most likely the back balcony too.
The construction of the front balcony make it dangerous and it would fall. The back deck is not stabilizes to the ground, posts are incorrect, wrong nails have been installed all over the deck, split wood and substandard work.
CLICK ON  THE PHOTO BELOW TO WATCH A VIDEO OF OUR BACKYARD DECK 
Click on this web link to view a video of our front balcony.
It is frighten and disconcerting that Deon Holloway phones a financial vendor to inform them about the terrific job on his deck.
Holloway wants our solar funds to be applied to the cost of the deck!
We never signed up with Enerbank for deck work.
My husband and I thought solar would be a terrific idea so we signed up for a solar program through Enerbank.
Our homes solar system was never installed by Eco Alliance.
Holloway told us numerous times that he returned our solar equipment to Fortune Energy of Simi Valley. 
It turns out Holloway did return our solar equipment to Fortune Energy but he kept our money.
We hope that others can learn from our experience.
ECO ALLIANCE EXPERIENCE
I would like to write that our experience with Deon Holloway and Eco Alliance was fabulous; but it was not.
My husband and I feel kicked in the gut. We trusted Holloway and this deck is our so called finished project?
Sadly, the inside of our home matches our deck and balconies.
After Eco Alliance abandoned our job two General Contractors reviewed our home and there findings alarmed us.
Here are some major issues that General Contractors pointed out:
Our halfway wired house is not wired correctly and we need to cut open the drywall to rewire.
Eco Alliance left us with live wires on.
The plumbing in our home is halfway connected and installed with the incorrect pipes.
the HVAC vents that Eco Alliance of Rancho Cucamonga installed are too small.
The beam they installed to hold up the house is not secure
The stairs are the wrong size
Balconies need to be removed, and most likely all of the deck.
The deck does not have a footing and could collapse.
Basically, our Redlands remodel has cost us a lot of money, time and energy with poor results.
We do have a new roof but Holloway will not provide us with the vendor information, or warranty.
ECO ALLIANCE GUARANTEES US $1000 A DAY FOR DELAYS
My husband and I are upset that our remodel has no progress and no workers at the worksite.
Non-solicited Holloway offers to take off from the final invoice a $1000 a day.
We later find that Deon Holloway has no ownership in Eco Alliance so he was making false promises.
Holloway has not paid the subcontractor for the fence. Here is the post about Eco Alliance installing used chain link fence on our property.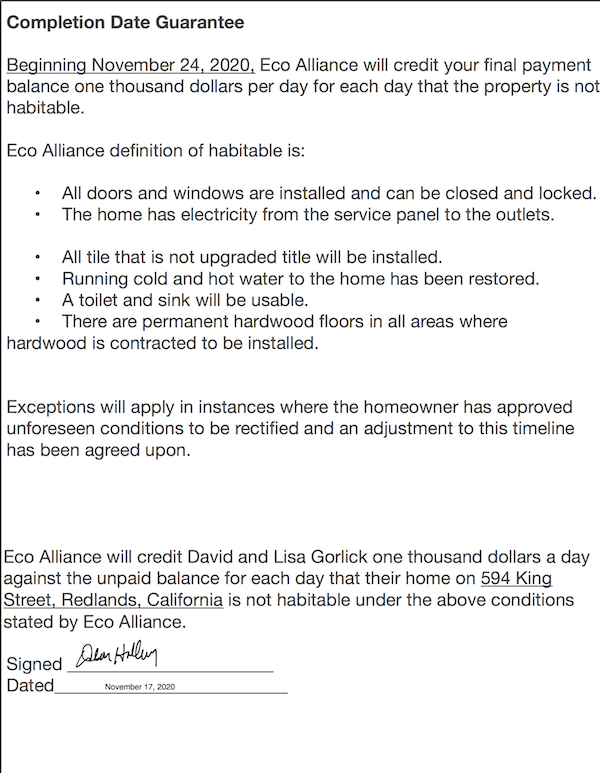 ECO ALLIANCE ABANDONS OUR HOME REMODEL
After experiencing Holloway behavior for numerous months we are not surprised when three different completion dates are not met by Eco Alliance.
Our experience with the Eco Alliance guarantee parallels the Eco Alliance contract.
Eco Alliance's work crew quits work on our house.
It is heart wrenching when the crews tells me tries to convey to me in Spanish that they are sorry to stop the work but Eco Alliance has not paid them for a month.  Holloway stops calling me and my husband.
Even through Deon Holloway has left our job site he wants funds for work that was never completed or completed poorly.
PALPAY
On a positive note PayPal has reimbursed us for goods and service that Deon Holloway did not deliver.
Below is our PayPal statement. Please be aware that Deon Holloway is connected to Smart Solar Energy and Bright Sky Solar on our invoices.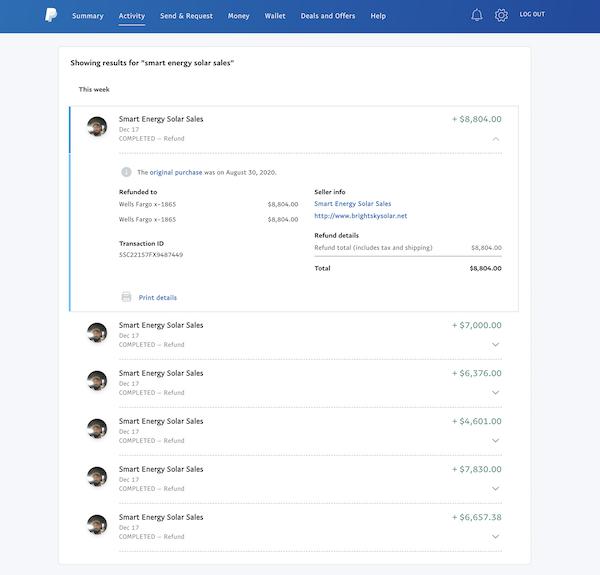 We are delighted that PayPal's legal department will move forward with fraudulent vendor actions.
It is our hope that Enerbank realizes Eco Alliance has committed fraud.
Our experience Deon Holloway is exhausting!
MOVING FORWARD
Our home will have to be on hold, another shoe has fallen in our home.
As I wrote in the 1908 Farmhouse first post, our house is an array of rare medical conditions.
Fortunately, my husband's upcoming neck surgery is very black and white.
So, stay turned.
I wish you a very happy and healthy 2021!