Find Out Why Our Redlands Farmhouse Sub Roof Is More Of A Skylight, Number 6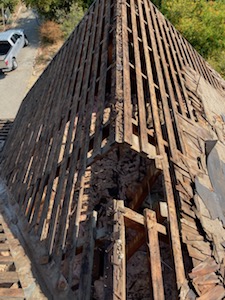 OUR REDLAND'S FARMHOUSE SUB ROOF IS MORE OF A SKYLIGHT
Unforeseen hold-ups such as our house's nonexistent sub roof keep our construction completion date delayed. It is October 17, 2020, and our home's completion date is in our rearview mirror.
Our Eco Alliance contract date of October 10, 2020, finish line is now October 29, 2020.
On October 29, we hope you can watch us open our home's red door as we cross our finish line.
The video below shows my Mom and me as we walk through the home red front door during construction.
My husband, my family, and I count the days until General Contractor Deon Holloway completes our home.
Deon has gives us a new completion date of October 29. My birthday is weeks away, and I tell Deon that our finished house would be an incredible birthday present.
Like most people who remodel a home, a layer of frustration arises when there are delays and additional funds are needed.
We never considered the cost to remove and replace a ceiling.
As construction outsiders, we cannot see the internal work of our farmhouse remodel. Hence, we need additional funds to complete our dream farmhouse remodel.
Our new adventure often feels like a money pit.
Another layer of frustration takes form as we find out that the PACE Funding has altered its terms, go figure.
We are not longer using PACE Funding to help pay for our farmhouse remodel. It appears that we will utilize the REEL program instead of PACE Funding.
If you would like to know more about the REEL program, Go Green Financing Program, please click on the following weblink.
So back to a prior delay, the sub roof of our farmhouse. There is no sub roof to our farmhouse!
It is no wonder the previous owners had sky-high energy bills. We have to shell out almost $9,000 to have a sub roof for the roof built. Our money seems to go poof!
You can't make up some of the stories we  experience during our farmhouse remodel.
Below are photos of our nonexistent sub roof: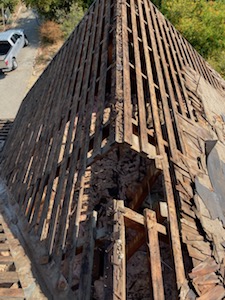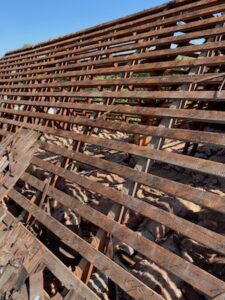 OTHER FARMHOUSE REMODEL POSTS
Farmhouse Makeover Begins, Number Two
Property Brothers Help! Our Farmhouse Remodel Continues... Number Three
Meet Our Contractor Deon, 

Number Four
Thank You For Sharing In Our 1908 Farmhouse Remodel! 
All comments, suggestions and ideas to improve our farmhouse remodel are welcomed. Please email me at Lisa@ProductReviewer.me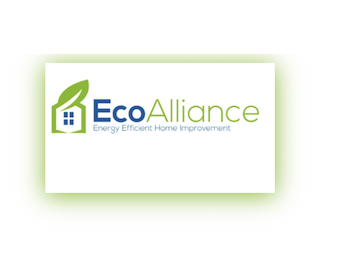 General Contractor Deon Holloway Of Eco Alliance Is The Company Remodeling Our 1908 Farmhouse. Eco Alliance Is Located In Upland, California, 91786.
You Can Reach Eco Alliance's, Upland California Office At 888-721-3637.
Click on this link to view Eco Alliance Inc. web page.
Deon Holloway's other company, Smart Solar in Upland, California may be able to help you with your residential or business solar power needs.
Eco Alliance Inc.com Contractor's License is #1059716
HOW TO FIND A CALIFORNIA STATE LICENSED CONTRACTOR
You can find out if your contractor is registered with California State License Board on this web link: CA.Gov Contractors State License Board.
Please note a California contractor license number doesn't contain alphabetic characters. Each contractor's plastic pocket license will show the respective license number. Begin entry of your license number at the left position and don't exceed 8 digits in the license number.
You can find California General Contractors Fast Facts on this  web link. 
The above California Contractors State License Board share what  General Contractors can and cannot do.
AN ISSUE WITH HOW YOUR CONTRACTOR 
If you have an issue with the way your construction project is being handled. The California Department of Consumer Affairs, Contractors State License Board provides you with a way to have your construction issue heard.
The California State License Board (CSLB) complaint process is designed to protect the public in matters pertaining to construction and to assist in the resolution of construction-related complaints.
CSLB addresses violations of California Contractors License Law, whether the contractor is licensed or unlicensed, for up to four years from the date of the act.
---
YOUR REMODEL BEFORE, AFTER PHOTOS AND STORIES
I would be happy to showcase the photos and stories of your home remodel.
I am happy to use your name or you can be listed as anonymously if you prefer.
If you like me to share your before, after and remodel photos and stories with ProductReviewer.me readers then please email me your remodel photos, and stories to Lisa@ProductReviewer.me
We all learn from each other.
Fingers crossed, I will be able to share with my ProductReviewer.Me readers the happily ever after story with our 1908 farmhouse remodel.